In 1997, the Senior Citizens Services of Tarrant County Approached Brenda Duncan about starting a choir comprised of senior citizens. They knew she was eminently qualified for this task. Tryouts began and the choir formed with a fairly small group. Through the years the choir grew and currently has about 35 people. As with all senior organizations, seniors leave and new ones come.
Eventually, the Tarrant County Senior Citizens Services had their budget cut and could no longer fund the Gold Tone Show Choir. By this time, the choir was a very professional group of singers who decided to continue on their own. So, they elected officers, applied for and received non-profit status, and have continued to function.
The choir has a tremendous number of very talented singers and continues to perform all over Tarrant County.

Kathy Moriarty, Director
Kathy learned about the Gold Tone Choir when they performed at her church. She came in quietly and sat down to sing soprano. The accompanist had to leave for personal reasons and the choir was weeks away from their yearly paid performance. Kathy volunteered to take over leaving everyone wondering how that would be possible. But the group quickly learned that she was very capable and talented. No one knew that she had been accompanying choirs and instruments for 40 years.
She was born in East Texas and received her Bachelors degree in Music Education (B.M.Ed.) from Baylor University.
Kathy has accompanied high school bands for their competitions, is a member of Euterpean Music Club, is the church organist at Westminster Presbyterian Church, and rings hand bells. She is very active in Presbyterian Women and Women United.
Kathy is married to Mike and not ready to retire. She is a real asset and the choir hopes she will continue for many years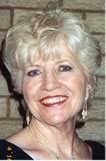 Darlis Anthony
Darlis, who sings tenor, has been with the Gold Tones since 2002, after meeting one of the choir members at a ballroom dance. He invited her to visit the choir to see if she would like to join, and she has been with them ever since.
Darlis sang her first solo in church at the age of six. She learned to harmonize from a wonderful elementary school music teacher, and then took voice lessons in high school. She has sung with various church choirs and choral groups through the years, and has especially enjoyed her time spent singing harmony in a duet at various venues around the Metroplex. During her working years, she was a receptionist/secretary for a doctor, a 4-H leader, and volunteered in many capacities with her children. She was married to an airline pilot who was also a rancher. His job kept him away a lot so she handled many of the ranching jobs.
Her favorite activities include singing, dancing, designing and sewing, gardening, breakfast with friends, reading and traveling. She is the proud mother of four children and eleven grand children.
Darlis has been a very active member of the Gold Tones serving ten years on the Board of Directors and many years as Chairman of the telephone committee.

Susan Johnson Dycus
Susan worked as a registered nurse in Dallas for many years before moving to Colorado and attending law school. She had a private law practice in Denver for many years emphasizing representation of children in divorce, abuse and neglect cases before switching to corporate law. When health problems forced her to retire in 2001, she became a full time RV'er. Susan returned home to Fort Worth permanently in 2006 to help her elderly parents.
Susan is a native Texan and graduated from Paschal High School in Fort Worth. Susan says that she always has a tune playing in her head and sang with her family, but had never sung in public until her sister convinced her to sing in the chorus for a community production of "Amahl and the Night Visitors" in Colorado a few years ago. That led to membership in a community chorus near her sister's Colorado home. She learned about the Gold Tones Show Choir from a performance at the retirement community where she now lives with her father and joined the Choir the very next week.
She is one of our lady tenors and says that she loves the fact that all of the Gold Tones have made her feel welcome and appreciated even though she doesn't read music!
Susan also enjoys woodworking, cooking, "fixing things" and is always excited to learn something new. She volunteers with the retirement community's thrift store, woodshop, and with her church. She is also active in the League of Women Voters.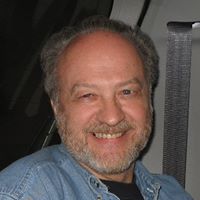 Bob Krause
Bob was born in Allentown, Pennsylvania and got his Electrical Engineering degree from BYU and his MBA from ASU in Arizona. After working for a number of electric power companies, he went out on his own as an independent consultant handling clients throughout the U.S. for 15 years and then developing contracts with USAID and the State Department in foreign countries (Pakistan, Egypt, Kosovo, Iraq, and Afghanistan).
Eventually tiring of travel and warzones, Bob retired but stays involved in family businesses (his wife, Barb,owns a travel agency and they own a beauty salon) and spends time with his twin grandkids.
Bob's interest in music started when his grandfather bought him a guitar when he was 10 years old. He moved on from folk music to pop, show tunes, choir music, barbershop, and classical.

Dorothy M. Sneed Lampkin
The Gold Tone Choir is fortunate to have Dorothy Lampkin as a new member. She adds a new dimension to the choir in their continuing effort to meet the needs of everyone.
Dorothy is an interpreter for the deaf. She has been doing this for 40 years and has too many civic and professional awards and recognitions to be listed here. Her graceful arm and hand motions add to the enjoyment of the non-hearing impaired in the audience, too.
She received her degree in Education from Texas Christian University and taught in Fort Worth for 31 years. She is married to A.B. Lampkin who sings tenor in the choir. They are the proud parents of 2 boys, two girls, 19 Grandchildren and 15 great grandchildren. Dorothy is a delightful addition to the choir and the Gold Tones hope she will be with them for many years.

A. B. Lampkin
A.B. is a true native Texan born in Gonzales and grew up in Anson, Texas. He is an alumnus of Grambling State University and attended Charter Life Underwriters Classes at Texas Christian University.
He has worked as Managing Editor for the Dallas Express Newspaper, a tailor for several men's clothing stores, life underwriter for two major insurance companies and retired as Team Leader for the Fort Worth I.S.D. Transportation Department.
His community service activities are almost too numerous to name. He has been very active in Reading Across America and can be found reading to school children on many days. He supports Women of Achievement with anything that is needed. He helped establish the Goodrich Center for the deaf, and, he has been active in Texas State Teachers Association and the Boy Scouts. A.B. has received many awards, but is the most proud of his "Second Miler Award" given to those who go that extra mile.
Invited to join by Calvin Harris who has been a member from the beginning, A. B. is a new and welcome addition to the choir's tenor section. His music study began in high school where he was taught sight reading. He continued singing in church choirs and has been the guest soloist throughout Texas.
Married to Dorothy for 53 years, he is proud of their four children, ten grandchildren, and eleven great grandchildren.
We hope he will be with the Gold Tones for a very long time.

Micki Malkosky
Micki, who sings first soprano with the Gold Tone Show Choir has an interesting background. She was a professional dancer in London and toured in many European countries such as Germany, Denmark, Sweden, Norway, Belgium, and entertained American troops in Germany in the 1950's. She fell in love with an American serviceman, was married in London, and came to the U.S. in 1961 and Fort Worth in the '70's.
Micki prefers singing and is often a soloist but her dance background helps her choreograph a few dance steps to enhance the singing. Currently, she is using her International Make-up artistry and Spa training in her own business getting brides and attendants perfected for the wedding portrait and/or wedding. She is the little one in the front row with the flashing eyes and a smile that says "I love entertaining you."

Tom O'Connor
Tom, like so many, started piano lessons at an early age, started playing the trumpet in seventh grade and continued playing in the band through high school. Played Barintone in college at North Texas State. (the Baritone is an instrument used in marching bands and concert bands in the 40's and is no longer used)
His singing began with the Army Men's Chorale where he sang on TV in Washington D.C. He also sang on nation wide TV on the Arlene Francis Show from New York. He continued singing in many church choirs and other groups. Currently he sings with All Saints Episcopal Church and the Fort Worth Symphony Chorus (SWBTS Chorale) in addition to the Gold Tones.
He learned about the Gold Tone Show Choir from former member David Lindsey and has been with the choir for four years.
Before retiring, Tom was a Licensed Engineer for 40 years in product design at General Dynamics and has spent 4 years with a consulting firm.
Tom's wife is a physician and they have three daughters: one a veterinarian, one a teacher, and one a corporate attorney.
Since he is 90% Irish, he would like to rent a castle in Ireland for a family reunion when everyone can get away at the same time.

Phyllis Marabeti
Phyllis is one of the Gold Tones newer members, but you would never know it. She has jumped right into singing and doing many of the extra duties. Before coming to Texas from New Jersey she sang with a Jazz Ensemble for 30 years. She is a retired teacher, floral designer and proud mother of three of the "best children on the planet". She has the distinction of having met her husband on the internet and is very happily married.
Lynette Parkhurst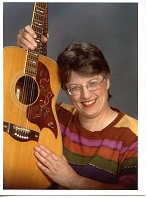 Conversing with The Gold Tones Show Choir's director before their performance at an assisted living where her mom is staying, Lynette, a soprano, was invited to sing on the spot. The rest is history. Born and raised Fort Worthian and Church Music graduate of Texas Lutheran University, Lynette has accompanied choirs, instruments, Lutheran Seminary in the Southwest (LSPS), and rang for seven years with the Austin Handbell Ensemble - a professional community group. Having served as Music Director in several denominational churches, she is in her 18th year as the Music Director at St. John/San Juan Lutheran in South Austin. Not knowing much Spanish and the Lutheran Spanish hymnal only having a melody with "Do, Re, Mi" chords, paved the way to create accompaniments, be a member of the Episcopal Cancionero (Songbook) Executive Committee, and be a resource for the Latino community. "If there had been accompaniment in the Lutheran Spanish hymnal, I would have practiced and gone home. I love to be able to play tango, salsa, bossa nova, and glissandos in church!" Since 2012, Lynette teaches Latino Hymnody at LSPS' Spanish Intensives; June 2017 for the Episcopal Latino Ministry Competency course. A Masters of Music in Mariachi/Salsa at Texas State University in San Marcos is her next goal. Just north of Austin - Cedar Park - is where Lynette resides with her husband, when not being with mom. A total of three children, three Hispanic grandchildren, and a cat and dog fills their lives.

Karen Havens Martin
A 1976 graduate of Texas Tech University, Karen started her adult working life in Fort Worth with Eddie Childs' Western Company. His motto of, "If you don't have an oil well, get one" sounded good to her. She had started Tech with a partial music scholarship, but quickly changed her focus and regretted it for many years. Joining the Gold Tones in 2014 was a joy years in the making.
Karen became a travel agent in Ardmore, OK in 1983 as the industry was just starting to computerize their operations. She continued in that exciting field in Odessa, TX and finally moved back to the Fort Worth area in 1988 to manage, and later own TCU Tan, Nails, and Travel. Moving across the street and changing the name to Cruises Plus, she owned the agency for many years and traveled the world in a quest to meet everyone, see everything, and do everything before she died. Nearly accomplishing just that, she went back to school for her Master's at Tarleton State and started teaching. In 2004 she was privileged to start her final degree at UNT with a Doctoral in Administrative Education. One of her great joys before retiring in 2012 was directing class choral performances each year. Along with her husband, Stephen, also a choir member, she hopes they give as much joy to others, as singing gives to her.

Stephen Rookard
Stephen has had a deep voice all his life. As a teenager he would scare many a mother with a voice that sounded well beyond his years when calling for a date. Though he never studied music, he did get a Bachelor of Arts in Radio-TV as he put his outstanding voice to use in college as an announcer & DJ at the campus of UTEP. He worked 28 years with AT&T and its affiliates, including several years doing voice overs on long distances announcements for all of AT&T and using his voice for call answering prompts.
Stephen also developed his speaking skills with Toastmasters for seven years, serving as president three years. His wife was a scholarship winner in Music at Texas Tech. She was a soprano that joined the Goldtones Choir four months before he did. Not sure of his talent for singing, but at her urging, he ventured out into the world of singing. Stephen brings a deep, low bass voice much enjoyed by those that hear him. He seems to be a keeper.

Joseph Charles Zana, Jr.(Joe)
Joe was born, raised and educated in Cleveland, Ohio, the only child of first generation Hungarian parents.
He always enjoyed athletics, from high school sports to AAA Baseball with the Toledo Mud Hens to present day golf and pool games.
Joe served aboard the USS Northampton during the Vietnam War. Exposure to the warm Ports of Call made the frigid Cleveland winter more than unpleasant. He migrated first to Florida and finally to his adopted home state of Texas in 1980.
He and his wife Ann have a son and daughter who live in the area. He is enjoying being retired from various parts of the automobile business, pursuing a long delayed interest in art at TCU with Art Instructor Lynn Clark, and getting to be a part of the Gold Tones.